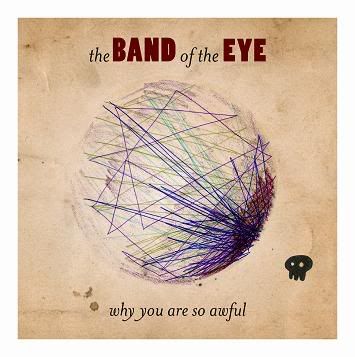 Website: http://www.bandoftheeye.com
Music: http://soundcloud.com/thebandoftheeye/03-why-you-are-so-awful

Proclaiming itself "here to win your hearts and interfere with your daughters", The Band of the Eye has released a new single with indie label Red Square Records 77. This is the second single from the debut album by the alt-rock band, based in Bristol, UK.

Irish front-man Chris Murray explains that the single is about "idolizing manipulative people and letting yourself be told what to do", and name-checks Yoko Ono in a viciously cynical song that attacks control freaks and people who follow them. As Murray puts it, the quirky song "marries the timeless pop of 'sha-la-la' with the crushing metal of 'we all worship Satan.'" The tune bears The Band of the Eye's trademark mixture of hard-rock sounds and throat-shredding vocals with witty lyrics, poppy hooks, and a keen sense of melody.

Having played its first US shows in November, been broadcast around the world, and featured on Nickelodeon, The Band of an Eye is sure to make an impact with this Satanic new single, available worldwide from iTunes, Amazon, HMV and other platforms.

www.bandoftheeye.com

www.myspace.com/thebandoftheeye

https://twitter.com/thebandoftheeye

contact: info@bandoftheeye.com

About The Band of the Eye:

In 2007, an Irish youth living in the UK attempted to name a group Full Intercourse. He was prevented from doing so, and The Band of the Eye was born, and emerged with a hard rock sound onto an English music scene fixated with flaccid indie-pop.

Progress was made from the offset. The toilet-venue tour led to better venues, and an early demo got the band international exposure as it worked meticulously to find people to play the music on radio, college stations, podcasts and internet shows. A track was used on the compilation CD included with Alternative magazine. Favourable reviews began to appear too: "amped-up gutter riffs" and "neo-grunge" declared the journalists. Here was a band that – without having anything so preposterous as a message – was singing songs that were about something, and they shouted enough to sound like they meant it.

In early 2008 The Band of the Eye's first demo was heard by producer Paul Tipler (Placebo, Stereolab, Idlewild, 80's Matchbox B-Line Disaster). Tipler recorded 3 songs for the band, from which "Dress-Down Day", their first single, was released by excellent indie label Shifty Disco. Airplay, interviews and features increased in standing, including various BBC shows and a featured band week on XFM. It was decided that the band should record an album, so late in 2008 they went back to London to record more material with Tipler. Emerging from the studio, the title chosen for the album was Maximum Fisting. Realizing that DJ's might refuse to utter this title, Contagious Ignorance was settled on instead.