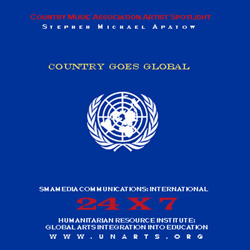 Url: http://www.unarts.org
Sound: http://airplaydirect.com/music/stephenmichaelapatow/

2010 represents 20 years of work in the mission field for Country Music Association Artist Stephen Michael Apatow, Founder, Humanitarian Resource Institute:

-- 1990: NCADI Campaign opens the first toll free hotline providing access to the largest information bureau in the world for substance abuse information, materials and support. Largest touch outreach ever coordinated through the Office for Substance Abuse Prevention, U.S. Department of Health and Human Services.
-- 1993: National Community Service Campaign impacts 133 cities from Washington, DC to San Francisco, California. Backed by the U.S. House Select Committee on Hunger and supporters of the Medford Declaration to End Hunger in the United States.
-- 1994: Humanitarian Resource Institute established, moving from work on the front lines to U.S. and International Policy Development.
-- 2010: HRI United Nations Arts Initiative established to return operations to the front lines, "bridging unmet needs to untapped resources" on the grassroots level in every United Nations member country, with support of the arts and entertainment industry and logistical support of the medical, veterinary and legal professions.

Shortly after Humanitarian Resource Institute was formed, the following article entitled "The Ultimate Objective" outlined the scope of our mission:

Url: www.humanitarian.net/Omnia_vincit_amor

The weapons are active care, compassion, concern and focused efforts to confront the causes of violence, bigotry, hatred and depravity. The vehicle encompasses successful initiatives that address the ills of conflict, ignorance, poverty and disease.

In the context of The Ultimate Objective : "When campaigning, be swift as the wind; in leisurely march, majestic as the forest; in attack, like fire; in standing, firm as the mountains. As unfathomable as the clouds, move like a thunderbolt." -- Adapted from Sun Tzu. "The Art of War"