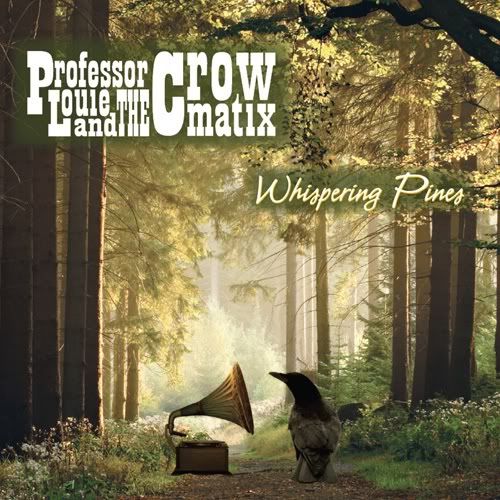 Website: http://www.professorlouie.com
Music: http://fairtilizer.com/track/whisperingpines

The prolific band Professor Louie & The Crowmatix have another fine release - this one is a combination of studio and live recordings.
Whispering Pines features 10 songs from their extensive repertoire including the youtube favorite title track Whispering Pines.

With Professor Louie handling the lion's share of the vocals as well as the keyboards, Miss Marie's singing & percussion, famed drummer Gary Burke, bassist Frank Campbell, and guitarist Josh Colow rounding out the Woodstock band, this collection kicks off with the timeless "Whispering Pines" written by Richard Manuel and Robbie Robertson. This version is simply stunning and at times sounds like a lost track from the Beach Boys' classic "Pet Sounds" album, with its lush production values, layers and textures.

With so many great rockin' tunes, the big finish is the stunning orchestral arrangement of "Melody of Peace" by Burke, Spinosa and Hurwitz, performed with the Prague Radio Symphony and Kuhn Choir, recorded in the Czech Republic after receiving the ERM/NAXOS composition award.
The artwork is very special on the Whispering Pines CD. Woodstock Records developed a Community/Work program with students of NYUlster College Design Department and together they created this beautiful CD package.

1. Whispering Pines - rave reviews with 10,816 views on youtube & counting.
2 . Nightime In the Switchin' Yard - great version of this Warren Zevon classic.
3 . Between Midnight & Two - Louie & Marie's octave harmonies on this original song blend with the great Tom "Bones" Malone & The Rock of Ages Horns.
4. I Wouldn't Do It That Way - original Rockin' Blues, soulful vocal by Miss Marie.
5. In My Secret Life - song of love & heartbreak by poet/songwriter Leonard Cohen.
6. The Weight 6:39 - recorded live at The New York State Museum's concert series "Spirit of the Woodstock Generation"
7. Ain't No More Cane - taught to Louie by Rick Danko. Live acoustic version features Louie's accordion & beautiful acoustic guitar by special guest Artie Traum.
8. Serve Somebody - Miss Marie shines on this live version of the Bob Dylan classic.
9. Forever & Ever - shimmering vocal harmonies on this blues/country waltz with the VYSO ensemble of the Virginia Orchestra.
10. Melody Of Peace - Original International Award Winning Composition performed with The Prague Radio Symphony & Kuhn Choir.Conducted by Robert Ian Winstin and recorded in the Czech Republic.

WHISPERING PINES IS AMERICANA-ROOTS/ROCK AT ITS FINEST!
woodstock records
tel: 845-334-9420
www.woodstockrecords.com