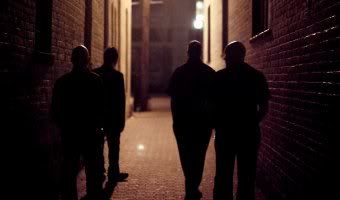 Pazz Kluger, the NJ based Post Punk/Post Goth band, has recently released a new EP titled "Insides". Written by Patrick A. V. (vocals/guitar), this is Pazz Kluger's second release, but first with current lineup. "Insides" was recorded by Bob Both at Twain Studios in West Milford, NJ and produced by NJ punk legend Marty Munsch. In the vein of Joy Division and other retro alternative bands, "Insides" features four tracks to keep your mood sullen.

From the first haunting notes of track 1 "Naughty Things", to the ending feedback of track 4 "I Hate My Life, I Love My Lie", "Insides" grinds out an everyday tale without a happy ending. Loss of innocence, loss of self, twisted fantasies and a slow realization that things in life aren't always what they seem; Pazz Kluger's "Insides" is as powerful as it is poignant. Available for download at most digital retailers including: I-tunes, Amazon MP3, & CD Baby. "Insides" can also be heard streaming on the web at http://www.jango.com/music/Pazz+Kluger.

Pazz Kluger is: Patrick A. V. (vocals/guitar), Andy Vos (drums), Joe Colasurdo (bass), and Jon Lorusso (guitars).
A full bio can be found at http://www.pazzkluger.com/.
For booking or more information, please email booking@pazzkluger.com. Stay in touch and up to date with Pazz Kluger via Twitter, Facebook and other social networking sites.