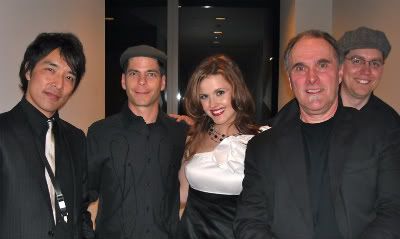 Halie Loren, international award-winning jazz/pop singer-songwriter, has already had quite a year with more than nine months still left to go. With 2011 touring under way, she has just returned from a week's worth of packed-house shows in Japan, where she performed at the world-renowned Blue Note (Nagoya) and Cotton Club (Tokyo) jazz clubs.

Loren's song interpretations drew enthusiastic responses from the many fans who attended one or more of her eight performances as she sang originals and standards in several languages, including the crowds' favorite, Japanese. Eager fans waited patiently in long lines to meet the artist and obtain her autograph, and once the venues sold out of her CDs, Loren went on to sign iPhones, assorted clothing, and framed Halie Loren CD covers. One fan who could not attend shipped a leather jacket to the Cotton Club for Loren's signature.

"It was incredible to meet so many fans who had listened to my CDs so much that they knew all the songs from my albums…maybe even better than I do!" says Loren. "That, along with the privilege of performing at such world-class clubs, really made those shows special. It definitely was a tour of 'firsts', including riding my first bullet train, signing my first iPhone, and playing in Japan with my fellow U.S. bandmates — a memorable tour on all levels." Longtime band members Matt Treder (piano), Mark Schneider (bass), and Brian West (drums) were joined by popular Japanese saxophonist Ken Ota for six shows in Tokyo.

After signing in 2010 with JVC/Victor Entertainment for marketing and distribution in Japan and Asia, Loren was interviewed by most of Japan's largest media outlets and appeared live on several major Japanese radio stations. A series of high-profile in-store performances last fall at Tokyo's largest music retailers helped generate intense interest.

But the buzz surrounding Loren's music reached new levels with her headline performance at the 2010 Ginza Jazz Festival in Tokyo. By the time she returned for command performances at two of Japan's most famous jazz clubs in February 2011, her inaugural jazz CD, "They Oughta Write a Song," had reached #1 on both Amazon (Japan) and HMV's jazz charts and placed as the #4 jazz album of the entire year on Amazon Japan's "Best of 2010" jazz chart.

Her most recent studio CD, "After Dark," was released worldwide in mid-November 2010 to critical praise. "She has both an exquisite musical sense and the talent for phrasing that makes a song come alive," wrote Vivoscene. "Her new album reveals a major star in the wings, soon to take center stage ... If this is your introduction to jazz, there can be no better."

Loren already has a full calendar of performances scheduled across the United States this year. Accompanied by pianist/band leader Matt Treder and New York bassist Mary Ann McSweeney, Loren will appear in New York City in April to perform at the Metropolitan Room, closely followed by several dates in Los Angeles and a string of Seattle-area club shows and festivals in May. More international travel in Europe and Asia is slated for the months ahead.

It's going to be a very good year for Halie Loren, indeed!

Contact info: Keith Altomare / 541-992-5399
Company: White Moon Productions
Location: Eugene, Oregon
Email: whitemoonprod@comcast.net
Website: www.halieloren.com