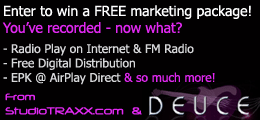 Url: http://www.studiotraxx.com/contest_entry.php?partner=2709
FOR IMMEDIATE RELEASE

New York, NY - June 1, 2009 - StudioTraxx.com is pleased to announce that it has teamed up with UK-based Deuce Management & Promotion to offer one talented StudioTraxx user a FREE marketing package. There is no cost to enter the contest. A winner will be selected based on the quality of both the songwriting and the overall production of the song.

The entry deadline is June 30, 2009. The winner will be selected on July 8th. For full contest details, visit: http://www.studiotraxx.com/contest_entry.php

The winner will receive:

- Radio plugging to over 50 radio stations worldwide ranging from Internet and Digital to FM and BBC stations
- Featured on the recently launched Deuce Show broadcasted on over 10 radio stations worldwide with more to follow
- FREE distribution to major digital stores with the artist retaining 100% royalties.
- An electronic press kit (EPK) designed through AirPlay Direct
- Considered as a featured artist on LP33.tv
- Features & reviews in Blinky The Magazine which was launched in March 2009
- And much more!

StudioTraxx.com is breaking new ground in the music industry by providing an e-commerce platform that allows artists, bands and others to purchase and book time with musicians, engineers, producers, and other music professionals for online collaboration purposes. StudioTraxx connects musicians and people who work in and around music, 24 hours a day, across the globe! Its 2800+ musicians-for-hire cover every skill set and genre of music including instrument, vocal performance, full arrangement backing tracks, engineering, drum programming, filmscore composition, and more.

StudioTraxx.com is actively building its talent network and is encouraging users to sign up and register. There are no costs to join the site. Creating an account is FREE.

Deuce Management & Promotion has quickly established itself as one of the leading companies offering marketing and promotion services to unsigned/newly signed bands and artists. With a growing reputation of being at the forefront of the best new music on the scene and with its idyllically placed office in London, Deuce aims to ensure that bands and artists are offered ways and means to get their music heard to a wider audience. Deuce has a global reach through its online music and digital media marketing services.