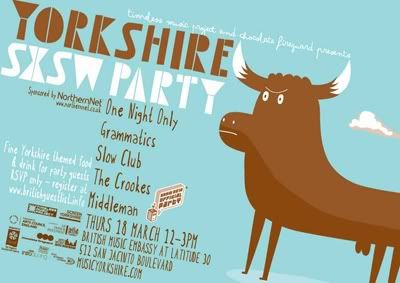 Website: http://www.musicyorkshire.com

From the region of the UK that brought you Jarvis Cocker, Kaiser Chiefs, Corinne Bailey Rae and the Arctic Monkeys, Timeless Music Project and Chocolate Fireguard presents .....

YORKSHIRE SXSW PARTY!

Thursday 18th March 2010, 11.30 am - 3 pm @ British Music Embassy, Latitude 30, 512 San Jacinto, Austin, Texas. Featuring:

One Night Only + Grammatics + Slow Club
+ The Crookes + Middleman

For up to date information and registration details check www.musicyorkshire.com

ONE NIGHT ONLY: Helmsley's One Night Only return to live activity with their first visit to the USA. The band have just finished the follow up to their huge top 10 debut "Started A Fire" and are set to kick off what is set to be a massive album in style at this years SXSW festival. Get down to witness a band coming of age! www.myspace.com/onenightonlyonline

GRAMMATICS: Grammatics make cultured, artistic pop music. Their debut album (March 09) received widespread critical acclaim, and they went on to play Leeds & Reading in August and support Bloc Party throughout October. They are currently working on their second album. www.myspace.com/grammatics

THE CROOKES: The Crookes world is nostalgic, romantic and melodic, telling kitchen-sink inspired stories of life and love to a backdrop of 80s indie classicism and 60s pop beats. www.myspace.com/thecrookesmusic

SLOW CLUB: Sheffield's Slow Club (Moshi Moshi Records) are defined by a their own distinct and powerful partnership. Charles with bruised vocal, rasping guitar and disarming lightness of touch; Rebecca with her dash of Northern Soul and sharp wit, playing stand up drums amid a wild array of percussive apparatus - wooden chairs, glass bottles, and spoons. These two are more than charming anti-folk troubadours; they are the real thing. www.myspace.com/slowclub

MIDDLEMAN: Leeds based Middleman effortlessly splice infectious song writing with driving guitar riffs, heavy beats and bass-lines and poetry-slammed vocals. Middleman are known for their contagious choruses, carefully crafted lyrics and ability to harness a multitude of influences, yet skilfully mould them into a sizzling sound that is uniquely their own. www.myspace.com/middlemanpop

SPONSOR: NORTHERNNET proves that it's fast up North with its high speed symmetric broadband network (up to 1 Gbps). NorthernNet is available to businesses as a direct connection and, for the first time ever, as pay-as-you-go via 17 Media Access Bureaux. www.northernnet.co.uk

MORE YORKSHIRE SXSW SHOWCASES:
www.musicyorkshire.com/live-2010.php

Other Yorkshire bands advertised as showcasing at other events during SXSW include Serious Sam Barrett, Standard Fare, Black Spiders, Alvarez Kings, LR Rockets, Findlay Brown, In the Nursery, Scars on 45 and Kava Kava (whose singer Pat Fulgoni has again organised the Yorkshire SXSW Party as part of his work with "Timeless Music Project"). More information on these artists and their showcases can be found on www.musicyorkshire.com (updated as we receive the information). T.M.P. will further support these artists, featuring them on this year's promo only compilation "Independent Sounds of Yorkshire & the Humber 2010" to be handed out to music industry delegates attending SXSW. Yorkshire will also be a partner in the British Music Industry stand at the Austin Convention Centre.

Timeless Music Project would like to thank the sponsors / funders / partners: NorthernNet, Yorkshire Forward, Screen Yorkshire, UK Trade and Investment Yorkshire and the Arts Council without whom this work at SXSW would not have been possible. For more information on the initiative: www.musicyorkshire.com/about-us.php

ABOUT SXSW www.sxsw.com

SXSW is arguably the most important US music conference for breaking UK music - helping to launch the careers of the Kaiser Chiefs, Amy Winehouse and Corinne Bailey Rae to name a few. Following the success of last year's event which showcased local acts the Wild Beasts, Sky Larkin, Rolo Tomassi, Talk To Angels and Paul Marshall (Lone Wolf) to packed music industry crowds, Timeless Music Project has (with the assistance of Screen Yorkshire and Yorkshire Forward) secured last minute sponsorship from NorthernNet in order to showcase Helmsley's One Night Only, Sheffield's Slow Club and The Crookes, Leeds bands Grammatics and Middleman at the prestigious British Music Embassy venue, Austin, Texas

Press people: for further information / photos contact Dee: info@chocolatefireguard.co.uk