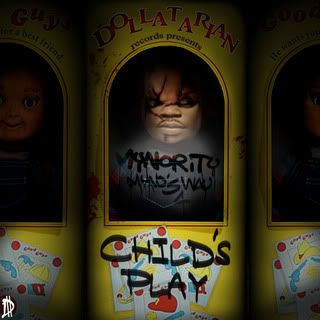 For Brooklyn raised hip hop artist MYNORiTY (known to friends and fans as Myno), 3 was not a charm. In the midst of recording towards his full length debut LP "The Commencement", which is due out in 2011, he suddenly had an epiphany that Myno's Way 3 wasn't strong enough to end the series. With the release of the 4th and final installment to his Myno's Way mixtape series, entitled "Child's Play", he's left people wondering "why not a 5th installment?".

Unlike the previous releases this mixtape has no skits, which subtly contradicts it's title "Child's Play". The CD has 18 tracks of both original and cover song freestyles that boasts a swaggered-out confidence and even a slight arrogance that Myno has become known for. He says, "Child's Play didn't really have as much to do with the content of the project. It was more related to the ease and comfort that I felt while doing it."

The opening track "Havin' Some Fun" sets the stage for the diverse yet very urban feel of the project. The mixtape features a certified dance hall reggae/hip hop collaboration in the song "Bad Girl" that will get any club or party jumping. The song "My Everything" is a hidden gem on the project that can do the talking for a lot of men with long time girlfriends on the verge of true commitment. The last song "Reaching for the Stars" is a seriously powerful song where Myno discusses where's he been, where's he headed, and why he feels so strongly about it. These 4 songs, combined with the other for 14 tracks provides any hip hop listener with 60 minutes of various sounds and styles you can't help but to enjoy.

All in all, Myno's Way 4 leaves off the series in a great way...with you wanting more and anticipating what's next to come. The mixtape can be downloaded exclusively on the MYNORiTY facebook page (facebook.com/mynoritymusic).

Website: http://www.mynority.com
Music: http://www.fileden.com/files/2010/10/2/2984238//1 - Havin Some Fun.mp3